"Hear, O Israel: The Lord our God, the Lord is one. Love the Lord your God with all your heart and with all your soul and with all your strength."
Passing on faith is a responsibility and joy of the church and home. Mt. Olive Family Ministry seeks to impact the next generation of disciples by partnering with the home and empowering every age and stage.
A fall family ministry devotional guide will be available beginning September 12th in printed or online PDF form for families of all ages & stages. We hope this guide encourages growth and conversation within your home, while you're driving kids in the car, during a meal, or enjoying the beauty of Indiana in the fall outdoors.
Meaningful Programming and Relationship Building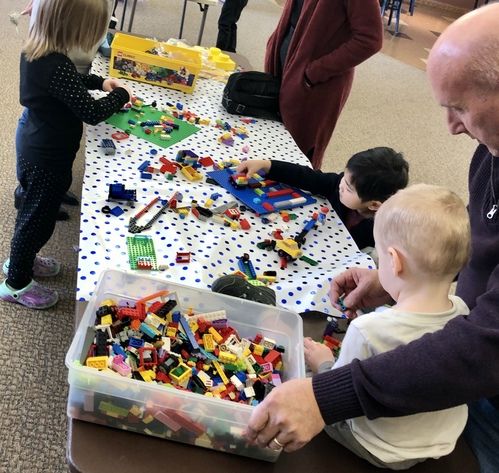 Faith development begins immediately and we celebrate the joy of infants in our congregation through their cries and squeals in worship as well as the care we give each infant and toddler and their family.
Godly Play is a unique worship experience designed for children. Immersive Bible storytelling produces a sense of wonder as your child experiences God in a holy unique and powerful way.
Beginning September 12th your family is invited to join us the first three Sunday evenings of every month for programming for preschool-12th grade age children & a free community meal. Preschool-5th grade and 6th-12th begin meeting from 4-5pm, while adults have space to take a breath and fellowship before the week ahead. At 5:30pm there's a free community meal for all. We hope you'll join us and invite a friend for Meals & More this fall!
Mt. Olive Family Ministry FAQ
Join our Adult Volunteer Team
Our adult volunteers are the heroes behind the family ministry of Mt. Olive UMC. Each adult volunteer has undergone training, background checks and follows our Safe Sanctuary church wide policies. If you are interested in helping as an adult volunteer in any age of our Family Ministry--we'd love to have you join the team! Talk to Director of Family Ministries, Steph Riebe at stephr@mtoliveumc.com



Family Ministry Leadership
A team of advocates for growing the next generation at Mt. Olive help in the planning, praying and dreaming of how Mt. Olive Family Ministry strives to be a loving neighbor to our community as we serve families. If you have any questions about Family Ministry at Mt. Olive from the parent perspective feel free to reach out to one of our Family Ministry Team Leaders:
Brooke Cheek, Ashley Holderead, John Haney, Chelsea & Brandt Lynch, DeShawn Wert, Krissy Miller
Question about Mt. Olive Family Ministry? Let us know how we can support your family
Mt. Olive Family Ministries Staff
Director of Family Ministries
Growing up in Fort Wayne, Indiana as a part of the Indiana UMC, Steph was discipled and embraced by her church family, parents and grandparents. They modeled what it means to live a life loving Jesus and sharing His love with others. When she was 17, she said yes to God's call over her life into full time ministry. Stephanie never imagined that would bring her to Grant County but God's call to Mt. Olive to disciple the next generation is also her call as Mt. Olive's Director of Family Ministries, leading programming for birth-high school aged children, youth & their families. Steph has served local churches in Michigan, the Mississippi Gulf Coast, Indianapolis & Fort Wayne since she graduated from Hillsdale College in 2006. She served full time in youth ministry until 2016 and then completed her Master of Arts in Ministry from Wesley Seminary in 2017 in Family Ministry. Steph's desire to empower the next generation comes with a sense of urgency and responsibility as an Aunt to a 7 year old and 4 year old as well as a licensed foster parent. Steph considers it a privilege every day to serve the Mt. Olive church family and the Grant County community.
Connect with Steph: stephr@mtoliveumc.com
DeShawn helps develop programming and policy with the Mt. Olive Preschool Council, works with parents and staff to make sure preschooler's educational and spiritual needs are met, and supports young families by answering their parenting questions. She supervises preschool staff and loves watching kids connect to God's world. DeShawn is married to Mike, and together they are raising their awesome son while enjoying their other grown sons' families, including four grandsons. DeShawn loves reading and exploring new ideas and can often be found watching the most boring show on television. She enjoys meeting new people and going on new adventures. DeShawn received her B.S. in Early Childhood Education from Purdue University and her M.Ed. in Curriculum Design from Indiana Wesleyan University.
Connect with DeShawn: Deshawn@mtoliveumc.com